If you're a gun owner in California, it's essential to understand the state's laws around transporting firearms. Whether you're on your way to the shooting range, selling your guns, or moving to a new home and need to transfer them between residences, it's crucial to know if it's legal to have a gun in your car in California. In this blog post, we'll dive into the regulations surrounding gun transportation in California so you can stay informed and keep your firearms safe and legal.
California's Gun Transportation Laws
It's legal to have a gun in your car in California, but there are specific regulations you need to follow. According to state law, a vehicle is considered a public area, so when transporting a firearm, you must abide by certain legal requirements. Here are some of the rules you need to know about when transporting firearms in California.
Registered Firearms.
While owning an unregistered firearm in California is not a crime, being in possession of one outside of your home is. This means you cannot remove the gun from your home, transport or use the gun without risking criminal charges.
Unloaded Firearms.
Under California law, it is illegal to transport any loaded firearm in a vehicle. The state defines a loaded firearm as any weapon with ammunition attached, inserted, or in the firearm's chamber. Make sure your firearms are unloaded and that ammo is stored in a separate container from the gun.
Lawful Possession.
To legally transport a firearm in California, you must meet certain requirements to ensure you're lawfully in possession. Here are the requirements:
You must be over 18 years old and a U.S. citizen.
You must either be a California resident or temporarily in the state.
You must be legally allowed to own, possess, receive, or purchase a gun in California.
If you're curious about what disqualifies you from possessing a gun in California, we recommend checking out this post.
Transporting Specific Types of Guns
Besides California's general firearm transportation laws, specific laws apply for transporting certain types of guns, such as handguns or assault rifles. Here we'll go over the different requirements based on gun type.
Handguns
In addition to the gun transportation laws above, there are a couple extra restrictions when transporting handguns. In California, handguns must be unloaded and locked in a secure container during transportation. Further, the handgun must be carried directly to or from the vehicle and while being carried, it must be contained within a locked container such as a gun safe.
What is a Locked Container?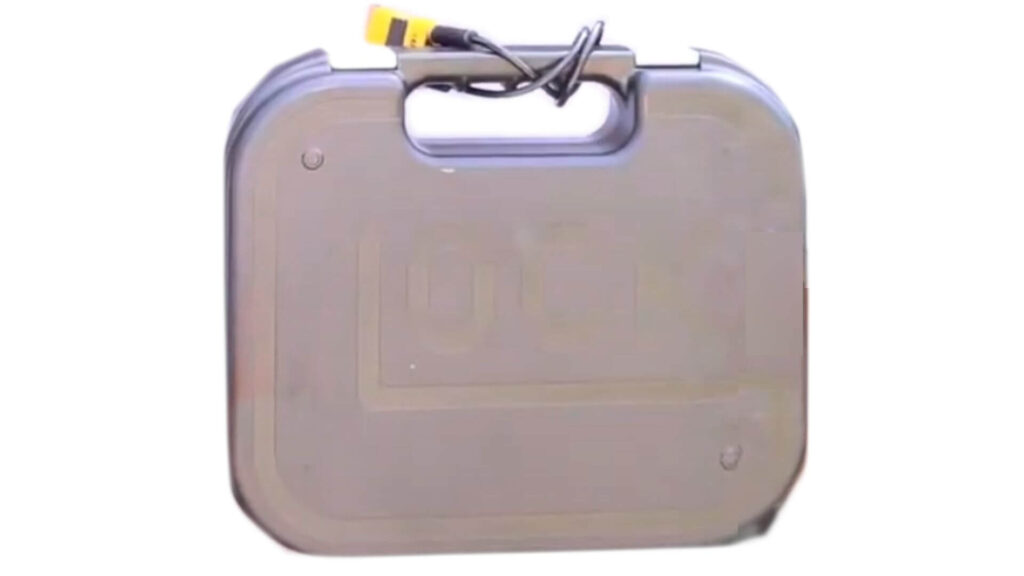 It's crucial to understand what qualifies as a locked container in California. According to state law, a locked container must be fully enclosed and secured with a combination lock, key lock, or similar device.
Examples of locked containers include:
a gun safe
the trunk of a car (though not the glove compartment).
It's important to note that even though firearms can be stored legally in a car's locked trunk, this method has potential issues. These include the following:
Not every car has a trunk.
Some modern car trunks can be accessed from inside the car, which doesn't meet the locked container requirement.
Opening the trunk to retrieve other items means the handguns are no longer in a locked container.
To ensure that you're fully complying with all California laws regarding handgun transportation, we recommend storing all handguns in a locked gun safe during transportation.
Non-concealable Guns (Rifles and Shotguns)
If you're transporting a non-concealable gun like a shotgun or rifle in California, it doesn't need to be locked up, but it must be unloaded.
Registered Assault Weapons
In California, you can only transport registered assault weapons between specific locations. Like handguns, they also must be unloaded and in a locked container when transported.
Exceptions
Some exceptions may apply to these regulations, such as carrying a firearm that is licensed for sale or carrying a weapon in a law enforcement capacity.
---
What are the Consequences of Violating California's Gun Transportation Laws?
Violating California's gun transportation laws can lead to severe consequences. Being in possession of a loaded gun in your car without a Concealed Carry Weapon (CCW) permit can result in a misdemeanour charge, which carries up to one year in jail and a $1,000 fine. By transporting a loaded gun in a vehicle without a CCW permit, you could face felony charges, which carry a maximum penalty of three years in jail and a $10,000 fine.
Conclusion
As a responsible gun owner, it's essential to understand these laws and comply with them at all times. If you're transporting a gun legally, you shouldn't face any legal issues. However, violating California's gun transportation laws can lead to severe consequences, including criminal charges and fines.