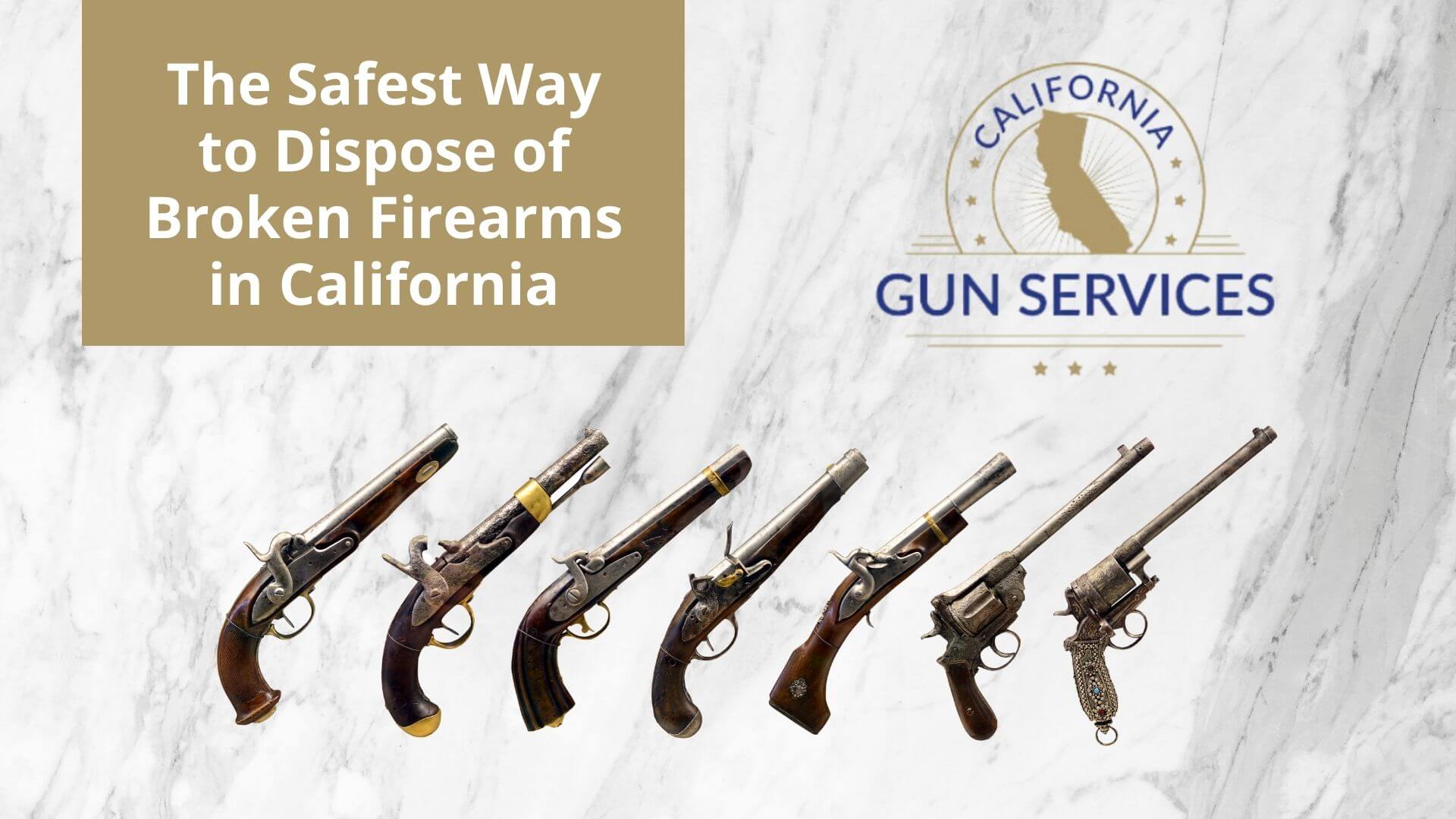 Do you have broken firearms that are taking up space in your home? Perhaps they're not valuable enough to sell, or you don't want to deal with the hassle of repairing them. Whatever the reason, disposing of them can be tricky and dangerous, especially if you don't have experience with firearms. That's why we put together this guide to help you discover the safest ways to dispose of a broken firearm in California.
Safety and Legal Considerations for Gun Disposal
When it comes to deciding how you will go about disposing of a firearm, it's essential to keep safety and legal considerations in mind. Improperly disposing of firearms in California can result in severe legal penalties and safety risks. It's crucial that you know all of the legal and safety risks involved in gun disposal, so that you can make an informed decision. Here's what you need to know:
Never Throw Away a Firearm in the Trash
First and foremost, it's important that you never throw away a firearm in the trash. Guns are not like regular household items that can be tossed without concern. There are several reasons for this, including the fact that it's illegal and potentially dangerous.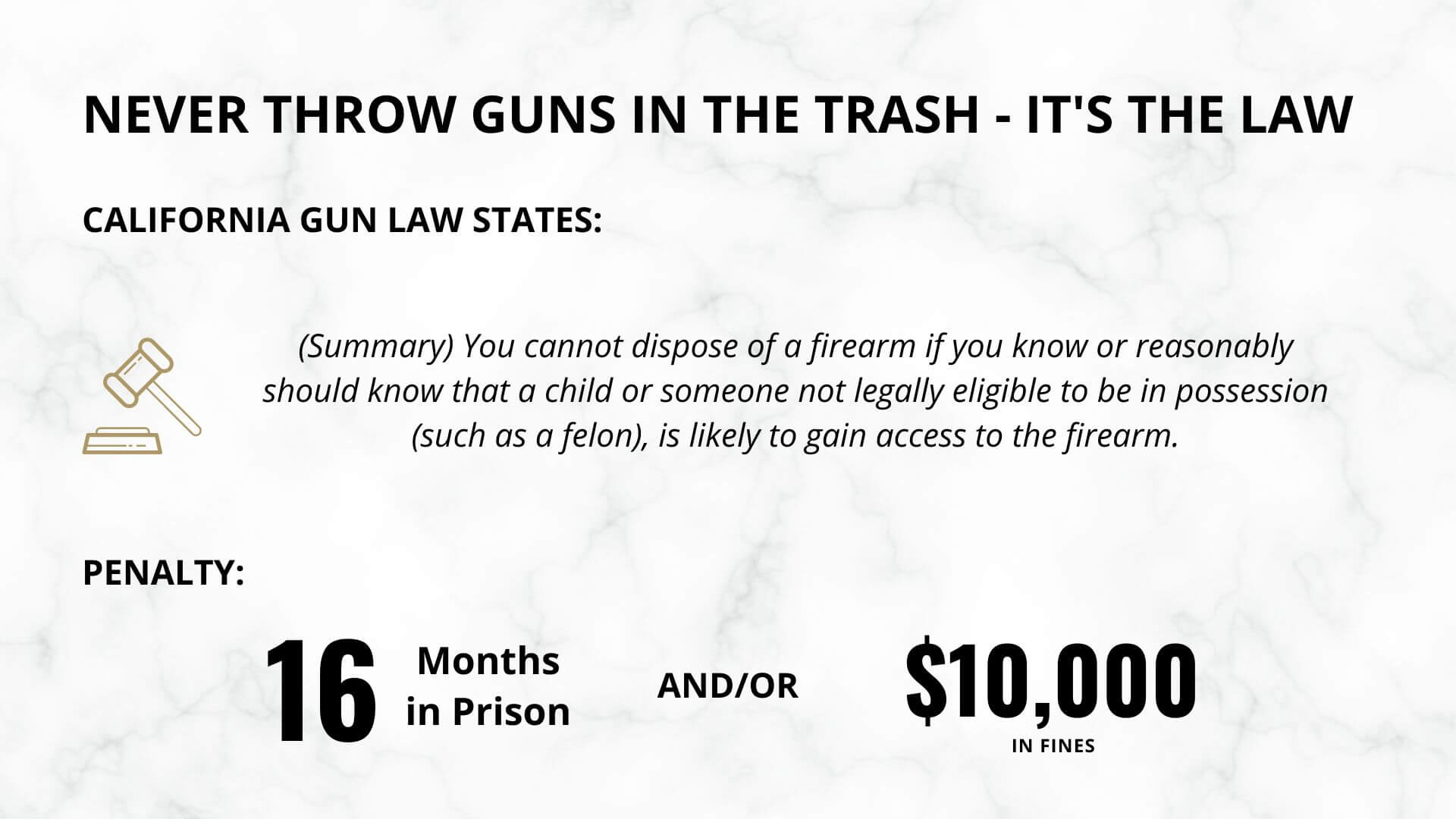 Safe Storage of Guns and Ammo
Before considering disposal options, it's essential to ensure the proper storage of your guns and ammunition. Store guns in a locked container and make sure they are inaccessible to minors and unauthorized users. Failure to do so could result in criminal charges for unsafe storage, heavy fines and jail time.
Risks and Dangers of Transporting Guns
Transporting firearms for disposal comes with risks and legal requirements. California gun laws state that all firearms must be unloaded during transportation. Further, handguns must also be secured in a locked container, during transportation.
For those who are unsure about safely unloading or handling firearms, you should seek assistance from a professional gun services company that offers firearms removal and destruction services. Companies like these can handle the entire process of gun disposal, including pickup, transportation, and destruction, making this the safest and easiest option for disposing of your firearms as a gun novice.
What are your options to dispose of a broken firearm?
If you've never owned a gun or have recently inherited firearms that you do not want to keep, you may not be aware of your options for legal and safe gun disposal. It's important to know that there are specific laws and safety risks you need to follow when disposing of guns. Here, we'll discuss the different options you have for proper gun disposal in California.
1) Surrender Firearms to Local Police
Voluntarily surrendering unwanted firearms to your local police station or sheriff's office is one legal way to dispose of them in California. To do this, you should contact your local police station or sheriff's office at their non-emergency number to receive further instructions for gun disposal. However, note that you will need to ensure that the gun is unloaded and separated from ammunition before transporting it.
Here are some useful links to help you quickly and easily access websites for Orange County law enforcement:
2) Participate in a Gun Buyback Program
Another option for gun disposal is participating in a gun buyback program. These programs offer a legal way to exchange firearms for rewards such as cash or gift cards, but broken firearms typically do not qualify for rewards. That being said, you can always dispose of your firearms through a buyback program. This can be a good option if you have other guns to drop off or are going with a group. Just keep in mind that you'll need to transport and unload the firearm legally, and buyback events don't happen regularly, so you may need to store the gun for a while before you can participate.
What is the Safest Way to Dispose of a Broken Firearm?
If you are not comfortable handling firearms, working with a reputable company that specializes in firearm removal and destruction services is the single safest way to dispose of your broken firearms. Companies such as California Gun Services will handle the entire process for you, including picking up the firearms and permanently destroying them. By using a professional service, you can avoid the hazards and legal risks associated with handling and transporting firearms and have peace of mind knowing that your firearms are being disposed of legally and responsibly. Get started today with 3 easy steps.
Step 1: Contact California Gun Services
To begin the safe process of gun removal, simply reach out to California Gun Services. You can fill out our contact form or call us at (714) 639-9608.
Step 2: Arrange for Pickup
Once you contact California Gun Services and we confirm that we can assist you, a licensed firearms specialist will come to your home to inspect your guns. If your firearms are found to be unsafe to use, cannot be repaired, and have no historical value, California Gun Services will remove them and permanently destroy them by torching each guns' receiver or frame into three parts or cutting it with a saw into five parts.
Step 3: Receive Proof of Destruction
We will document the destruction process with photos and log it for the Alcohol, Tobacco, and Firearms. Once our Orange County gun destruction services are complete, we will email proof of destruction to you, our customer.
Trust California Gun Services for Safe and Secure Firearm Removal
At California Gun Services, we offer a safe and professional solution for those who possess unwanted firearms. Here are some reasons why people across the state choose California Gun Services for their firearm removal and destruction needs:
We come to you! You don't have to worry about transportation or handling, we'll come to you to remove your firearms.
Legal Gun Disposal. Our process is certified and compliant with all state and federal laws. You can rest assured your that guns are disposed of legally and documented properly.
Trustworthy Resource. Jeff, the owner of California Gun Services, has been approved and entrusted by the ATF, Department of Justice and the Orange Police Department to carry out Orange County gun disposal services. You can trust California Gun Services to handle your firearms responsibly and ethically.
Support and Guidance. We understand that not everyone is comfortable with guns, and we're here to help. We can offer you advice based on your guns and help you to understand your options. We are not a gun company for "gun people", but a gun company for those who are not "gun people" who find themselves in possession of a firearm.