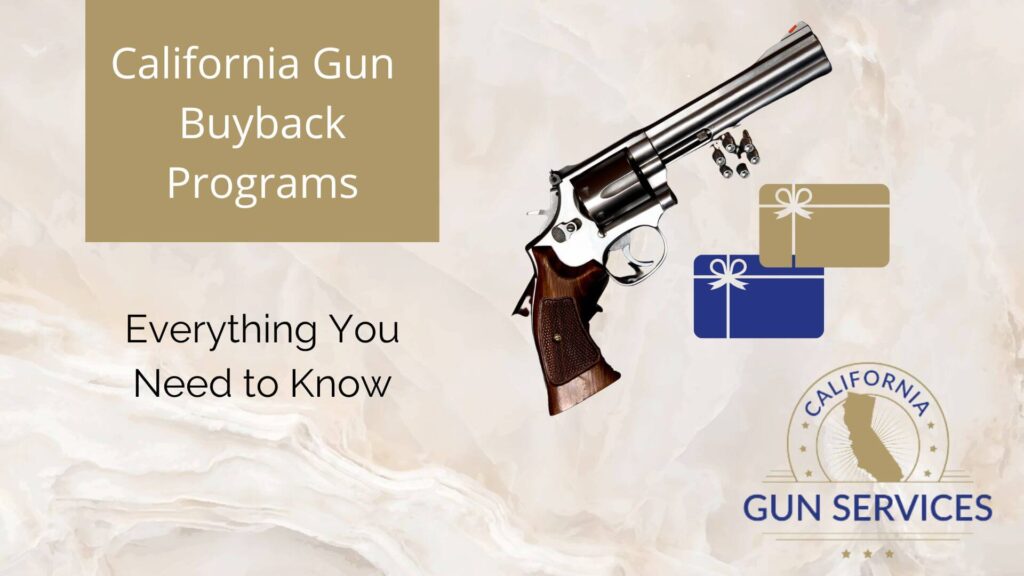 Gun buyback programs have become a popular tool used by law enforcement agencies across the US to promote public safety and address gun violence. California, a state with a long history of gun violence, has been at the forefront of implementing these programs. This guide covers everything you need to know about gun buyback programs including what they are, the benefits and drawbacks of participating in one. We also give a step-by-step guide on how to safely participate in a gun buyback program in California.
What is a Gun Buyback Program?
Gun buyback programs are designed to create a safer community by reducing the number of guns in circulation and preventing them from being involved in criminal activities, accidental shootings, or other forms of misuse. These programs allow citizens to turn in their firearms anonymously and voluntarily for incentives like gift cards or cash. The aim of these programs is to reduce the number of guns in circulation by removing unwanted firearms from homes, preventing them from falling into the wrong hands.
What Types of Firearms are Collected?
California gun buyback programs typically accept a wide variety of firearms, including handguns, rifles, shotguns, and assault weapons. The exact types of firearms that are accepted may vary depending on the specific program, but generally speaking, any firearm that is in working condition will be accepted. You may also turn in broken firearms, but you will usually not receive incentives for them. Some programs may also accept ammunition or accessories such as magazines or scopes.
What Happens to the Collected Weapons?
Once the firearms have been collected, they are typically transported to a central location where they are processed and eventually destroyed. Some programs may also donate firearms that are in good condition to law enforcement agencies or other organizations.
Is a Gun Buyback Program Right for You?
Participating in gun buyback programs is a responsible way for you to dispose of unwanted firearms, with no questions asked. In addition to helping keep your community safe, you'll also receive cash or gift cards as compensation for your guns.
However, gun buyback programs may not be the best option for everyone. For one, you won't receive the true value of your guns. This is especially true if you have firearms that are valuable or historically significant. Usually, you will receive gift cards or set prices for specific types of guns, which may not be equivalent to the actual worth of the guns.
You must also consider all legal and safety considerations for transporting firearms to the specified location. Firearms can be extremely dangerous if mishandled, and even a single mistake could result in serious injury or death to yourself or others. If you are unfamiliar with guns, you should not handle or transport them.
How to Participate in California
Participating in gun buyback programs is a fairly simple process. Here we've broken it down into 3 simple steps.
Step 1: Find a local gun buyback program. California gun buyback programs are typically organized by local law enforcement agencies, and are held on a specific day or weekend. Participants are usually required to bring the firearms to a designated location. You can find upcoming buyback events by checking with your local police or sheriff's office or visiting the website. Check out our end-of-year list of upcoming gun buyback events in California 2023.
Step 2: Safely Transport the Guns. California gun laws require you to unload all guns before transportation. If you are turning in a handgun, it must also be in a locked container and inaccessible during transportation. This includes being in places like the trunk, but not the glove compartment.
If you are not comfortable handling or operating your guns, you should not attempt to unload, move or transport them.
Step 3: Trade your guns for rewards. Once you arrive at the designated location, you can turn in your firearms for cash or gift cards. The specific rewards offered may vary depending on the program.
Are gun buyback programs effective?
Many studies have been conducted to determine the effectiveness of gun buyback programs. The data shows that gun buyback programs can be effective in reducing gun violence in homes and preventing stolen firearms from being used to harm others. However, on a larger scale the success is less known due to the infrequency of events. Further, these programs should not be considered as a standalone solution to the issue of gun violence.
Conclusion
While gun buyback programs can be an effective way to reduce gun violence, it is important to consider all your options when getting rid of your firearms. If you have guns that you no longer need and are unsure about participating in a gun buyback program, or if you need assistance with safe gun handling and storage, don't worry - California Gun Services is here to help. Our team of licensed and certified professionals can provide you with the support you need. Contact us today and let us help you dispose of your firearms responsibly and safely.